Growing up in Indiana, Ron Harrison was a self-proclaimed water rat, and once he shared the passion with his own children, it created a sizable wake. He started with ski boats, taking the family knee-boarding and tubing on small lakes near home, all the while dreaming of stepping up to a larger boat. Once the kids were old enough to ride their own Jet Skis, Harrison, who has owned an IT company for 22 years, was off to realize his fantasy. With the purchase of a Cigarette 42 Tiger, the Harrison family became a watersports caravan, hauling its fleet to bigger and bigger lakes.

"I taught my kids about boats early on and had them driving with me since they could stand. My daughter, Brianna, at 14, was at the helm of a Cigarette 46, and she knew what she was doing," laughs Harrison. Through Brianna and her good friend, Ashley, Harrison met Lori, his wife of four years. Ashley told her mom that her friend had a "cool dad" and she thought it would be good for them to meet. (The boat might've had something to do with it, too.)

Now, between the blended families, the Harrison get-togethers are a boatload of fun. Lori is a good sport, taking her vacations from her job in the insurance industry to go boating with everyone. Between her kids, Ashley (19) and Trevor (14), and Harrison's kids, Brianna (19) and Zach (21), the family travels with an entourage of friends to events around the country.

As Harrison's boats and family grew, so did his road show. To haul his Cigarette 46 Rider, Instigator, he has a Ford 450 six-door that pulls a fifth-wheel trailer with three 50-inch screens and a full audio system. The screens show powerboat, music or sports videos and can entertain an entire block. The setup won him a prize at the 2011 Lake Havasu Poker Run.

"It's the people you meet that make it so much fun," says Harrison. "People are attracted to the boat, and so they come up to talk about it." Next of course, they want to go for a ride, and Harrison is happy to oblige — any excuse to go out on the water is a good one. "Even if they have their own, they want to come on my boat," he adds, proudly.

Harrison's current Cigarette 46 is the culmination of a dream. After his Cigarette 42, Harrison bought the first Cigarette 46 with Mercury Racing 1075s: the red, white and blue American Muscle. Skip Braver, Cigarette's president and CEO, had built it as his own boat, but Harrison scooped it up at the 2004 Miami International Boat Show, and that began the quest for his own custom-built Cigarette.

Since Braver had built American Muscle to his own specifications, he and Harrison realized they had quite a few boating preferences in common. He built a relationship with both Braver and David Woods of Pier 57, Cigarette's dealer from Pickwick, Tenn. "I found David to be such a smart broker. He's just an outstanding guy," says Harrison. "He and Braver have integrity, and I really appreciate that. Skip will say, 'Let's talk,' and we'll have a conversation about all sorts of things."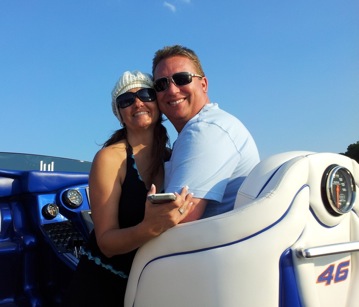 One of those talks led to a ride in the Cigarette 46 Inspired by AMG unveiled at the 2010 Miami Boat Show, with the first set of Mercury Racing 1350 engines. Harrison was sold on the smooth performance and comfort, and at the 2011 Miami Boat Show, his new 46, the first production boat with the 1350s, made its debut and then hit the Poker Run circuit.

There are lots of stories since then — like a friend's wedding at the Lake of the Ozarks, when the bride asked Harrison to take her bride's maids out for a ride. The bride donned a special dress for the occasion, and the girls did a thrilling lake hop before re-joining the rest of the wedding party on a yacht. There's also a friend from kindergarten that Harrison convinced to take time off from his busy job as a hospital CEO to do a boat trip. Now, it's an annual reunion. "I like to bring people and introduce them to this," Harrison notes.

And "this" is a special Cigarette, exemplifying the company tag line, "If you've seen one, you've seen only one!" Harrison is partial to bright colors, so his rainbow paint scheme includes an entire spectrum, along with ghosted Cigarette logos on the hull. A sun pad was important to Lori and the girls, so the engine hatch was made with an extra large one. On the underside of the engine hatch, covering the coveted 1350s, is Harrison's own addition: a photographic reproduction of the infamous Cigarette ad from 2006, "Founded in '69 and still on top!"

Harrison also added lighting effects to each of his Focal speakers, an extra cooler and some billet trim that he admired on the Cigarette 39 Top Fish. Customized upholstery became a joint effort by Harrison and Braver, both exotic car fanatics. Harrison chose upholstery to match his Ferrari: a 599 GTB Fiorano. (The style is now one of Cigarette's options.)

Harrison enjoys being a part of the performance boat community, gathering with friends at his "stomping grounds" at the Lake of the Ozarks, where he has built many friendships around boating. When he arrived at the 2011 Key West Poker Run, it was with a caravan of 13 boats: six from California and six from Lake of the Ozarks. There were miles of smiles from Miami to Key West, where he docked at a private condo he'd rented for his entourage, so they could all enjoy the festivities. Just another week of boating for a man who loves life in the fast lane.

"We cruise at 98 to 102," he smiles, "that seems to be the 'sweet spot' for this boat, and there's no effort. It's comfortable and I feel safe. That's the thing about the ride of a Cigarette. I've been in every kind of boat, and I'm a Cigarette guy."