According to Mercury Communications Director, Steve Fleming, "The new 350 will be available in the U.S in March and in Europe in April." When pressed about how big a market exits for such growing power, Fleming said, "Certainly the proliferation of bigger boats can benefit from it. With larger engines you can mount fewer on the transom. And of course, a larger engine pushing the same weight doesn't need to work as hard as a smaller engine. Another benefit is that even though you might run larger engines, they usually don't use appreciably more fuel since they aren't running at as high rpm or working as hard. Those larger boats really can benefit from the increased horsepower." Of course, the price of fuel in America doesn't oompare to EU costs! That could really make a difference in popularity of bigger iron.
EVINRUDE 300-HP G2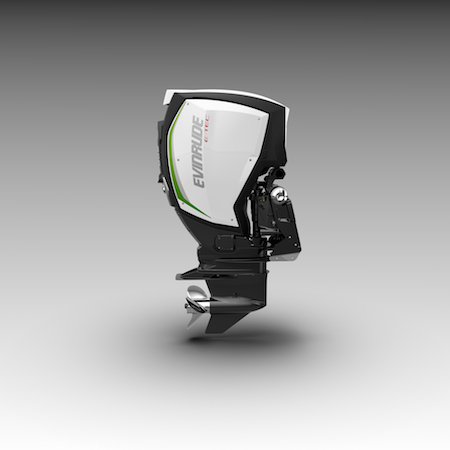 Bombardier's new Evinrude G2 outboard blasts two-stroke technology into the 21st century. Available only in the 300-hp model, the G2 boasts numerous dramatic changes and improvements over previous Evinrudes. Even a first glance shows a cowl design unlike any other.
Customizing outboard color and trim used to be strictly the purview of megayacht tenders. No longer! Evinrude G2 offers you the choice of five different colors and a host of trim accents. Visit www.evinrude.com to interactively design your engine to match your boat.
But that's just scratching the surface. Available in shaft lengths of 20, 25 and 30 inches, the G2 offers the highest torque of any comparable outboard on the market, which you'd expect from a two-stroke. Every stroke is a power stroke! It runs on regular 87-octane fuel (though non-ethanol is preferred). It never needs an oil change thanks to the internal two-stroke oil reservoir. That's a cost savings. You can also winterize it yourself effortlessly.
Those with an environmental conscience will appreciate that the G2 has the lowest emissions of carbon monoxide and particulates of any outboard, to the point that it meets or exceeds every emissions standard on the planet right out of the box.
The G2 is a 74-degree V6 with E-TEC direct injection and it provides 133 amps of charging power when running and 14 amps at idle. The warranty is nothing to sneeze at either, with a five-year, non-declining guarantee.
Finally, with fewer moving parts than a comparable four-stroke, you'll be faced with putting less weight on your transom.
MERCURY 350-HP VERADO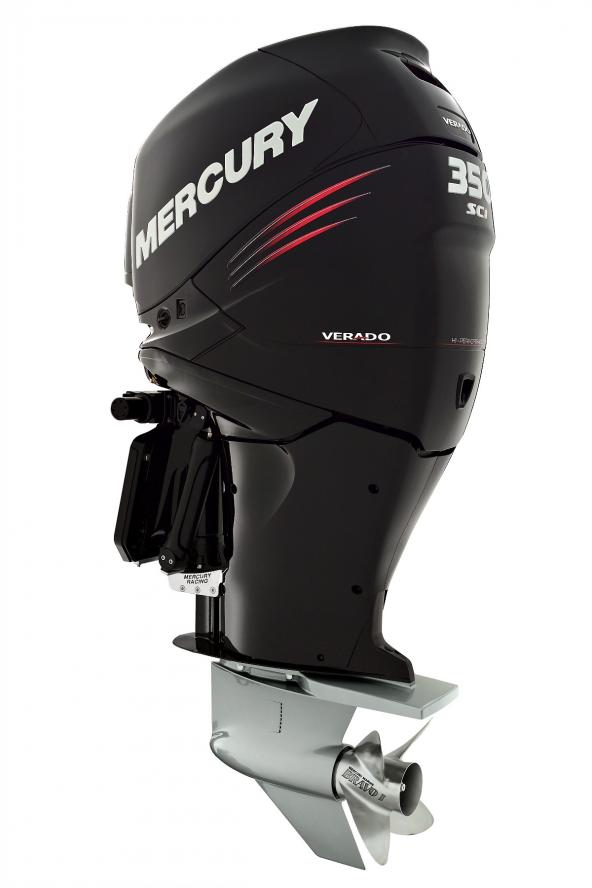 Until now, if you wanted 350 horses in one Mercury outboard, you had to go to the racing division. No more! At the 2015 Miami International Boat Show, Mercury Marine introduced its newest additions to its outboard family: the Mercury 350-hp Verado.
Recent statistics show that the 35- to 50-and-up recreational boat segment in America has grown by a whopping 80 percent since 2011. Miami debuted numerous outboard-powered boats over 40 feet, including a new Hydra-Sports center console stretching 53 feet long! Obviously boats of this size require commensurate power.
Mercury touts the Verado 350 as the fastest and most fuel efficient in the horsepower category. Built on the same block as the 300-hp Verado, the 350 offers many improvements. For example, the water-cooled supercharger increases boost by more than six percent and the overall airflow via a cold-air intake by more than 10 percent. The air-handling system, with its larger and straighter airflow path, is a more efficient design that creates less turbulence. The Darth Vader-like top cowl (available in glossy black or two shades of white) design keeps the powerhead dry. These two improvements alone equate to a peak-power increase of 16 percent.
A new, heavy-duty gearcase housing a 1.75:1 gear ratio provides greater lift while handling rough sea conditions. And what Mercury touts as the Advanced Mid-Section (AMS) perimeter mount system virtually eliminates engine-related vibrations for an extremely smooth and quiet ride. When Mercury first introduced the Verado line, it found itself forced to add an ignition cutout to prevent owners from trying to start engines that were already running. The engines were that quiet! The 350 runs even quieter.
Mercury engineered these cooler-running systems so that the 350's operating temperatures can be significantly lower, thereby suffering less frictional losses. It also operates on 89-octane fuel, unlike the racing version that demands 93 octane.
Other features available on this and other Verados include joystick piloting, allowing you to move your boat in any direction — even sideways. Skyhook mode uses the same joystick maneuvering software to, at the push of a button, automatically keep your boat in one spot, on the same heading as when you engaged the system. It's like an electronic anchor. Part of Mercury's Precision Pilot system, this small control panel also provides you with full autopilot capability.
What Mercury calls Shadow Mode allows you to control three or more engines with just two throttle/gear levers. In addition, it lets you increase rpm incrementally by pushing a button and control all engines with just one throttle lever.
Even with all these new features and higher power, the 350 Verado still qualifies as the lightest on the market, tipping the scales at 303 kilograms — a full 43 kg less than any other 350 engine on the market.
For those concerned about Mercury's Racing Division, it too debuted new power in Miami: a 400-hp engine model based on the same 2.6-litre, six-cylinder as the Verado 350. Computer mapping is responsible for the extra horsepower, along with a requirement for 93-octane fuel.
7 MARINE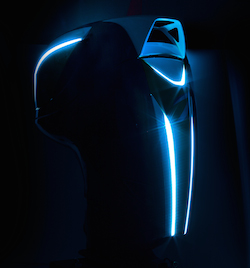 In case 400 horsepower just isn't enough for you, consider the newest offering from 7 Marine. This company already boasts the highest horsepower outboard in the world: a 557-hp monster based on the supercharged Cadillac 6.2-litre aluminum LSA V-8 block. Choose gearing from 1.4:1 to 2.1:1. It produces 550 foot-pounds of torque and weighs 474 kilograms. Sure, that's heavy, but consider this: it would take five 350-hp outboards to match three of these on a transom. That totals 22 percent more weight for the 350s, before you get into rigging, added drag and less efficiency.
On the negative side, however, 7 Marine engines also qualify as the most expensive outboards on the planet. Triple 557-hp engines would cost you around 45 percent more at the outset. And yet, they are selling like pints of ale!
Not resting on its laurels, 7 Marine introduced another leviathan at the Miami show. To everyone's utter amazement, the company drew back the curtain on a 627-hp outboard sporting a new concept cowl called SpectraBlade with integrated LED trim lighting. The look? Dramatic! The performance? Unparalleled! The cost?
Well, if you have to ask….
Author: Dean Travis Clarke is a regular contributor to HeartLand Boating